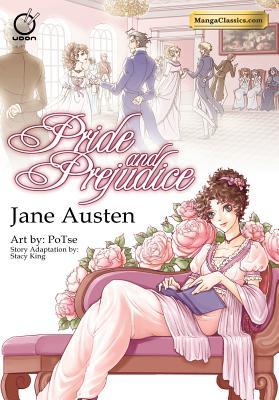 Rating : 4 stars
Read: July 2014
Format Read : ebook (ARC kindly given via Netgalley in exchange of an honest review)
It's been awhile since I read a manga but when I saw there was an adaptation of one of my all time favorite novels, I knew I had to read it.
Like every adaptation, this manga gets the essence of the story but it's not 100% faithful to the novel, there are only small adjustments to it, necessary due to the
length
of the manga.
Darcy is gorgeous and all awkward,haha. And there are some scenes that I couldn't help but laugh of how flustered he got. Let's just say that the scene he realized Lizzy was beautiful was kind of priceless.
I was surprise of how attractive Mr Bennett looked really, and Mrs Bennett was so darn cute (her chibi drawings were the best, although "evil" Chibi Darcy won all the awards!!).
But the most hilarious character was in fact Mr Collins, I couldn't stop laughing at it.
The only downside in this reading was really the format, I know manga books are backwards but they could have change the ebook version...it was annoying how I did had to keep scrolling up and down, not practical at all.
Anyway, this was a lovely manga that made me want to read more manga and of course, re-read Pride and Prejudice.