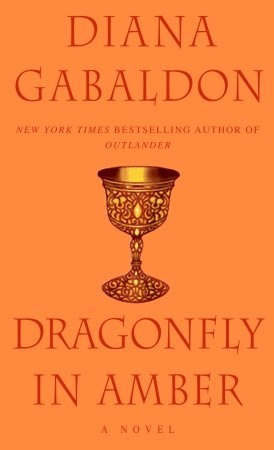 Rating: 5 huge stars
Format Read: paperback
***5 Timeless and mesmerizing stars***
"Blood of my Blood," he whispered, "and bone of my bone.
You carry me within ye, Claire, and ye canna leave me now, no matter what happens,
You are mine, always, if ye will it or no, if ye want me or nay.
Mine, and I wilna let ye go."
And so the
Dragonfly in Amber
picks up the adventures of our beloved couple...
And well,I just love Jamie and Claire <33
Anyway, back to the story shall we?
**some minor spoilers of the 1st book and the beginning of the 2nd book**
**Proceed with caution**
So the story begins in 1968...I know right, WHAT? WHAT THE HELL HAPPENED?
There we see Claire with her daughter Brianna, back to Scotland. She went back to discover what happened to the people she knew, what happened after the battle of Culloden. And that she asks the help of Roger, the late reverend adopted son.
And of course the main question is, why did she came back to her time and what happened to Jamie?
And the main book takes us back 200 years, where Jamie and Claire are in the midst of the French court, full of intrigues, conspiracies, betrayals and they are set to change the past.
Can they stop a revolution?
Claire
"I stood still, vision blurring, and in that moment, I heard my heart break.
It was a small, clean sound, like the snapping of a flower's stem."
I love Claire, she is truly one of my favorite characters. She is strong, resilient, passionate, smart, resourceful and she will do anything for Jamie. Truly, their love is stuff of legends. And this type of love, only other series touched my heart like this, and it's The Bronze Horseman Series.
Claire says Jamie is stubborn (and he is) but she also is, so you see, they're perfect for each other.
At the beginning of the book, I started laughing to myself, the times she was set to change the past, because I could only think that she must never read any sci-fi book. Why? What's the rule that's like engraved in our brains according to time-travel? Not to try to change the past! Haha, but anyway this actually made me wonder,in terms of fantasy, that one even would have bound to happen because of that same interference...
Anyway, I love how adapt she is to any situation, even if it's a french court with gossip and hidden enemies,or among the soldiers, healing them.
She goes through imaginable situations and grieve but she is one of those characters, that despite all she becomes stronger.
Jamie
"I will find you," he whispered in my ear.
"I promise. If I must endure two hundred years of purgatory, two hundred years without you - then that is my punishment, which I have earned for my crimes.
For I have lied, and killed, and stolen; betrayed and broken trust.
But there is the one thing that shall lie in the balance.
When I shall stand before God, I shall have one thing to say, to weigh against the rest."

His voice dropped, nearly to a whisper, and his arms tightened around me.

Lord, ye gave me a rare woman, and God! I loved her well."
Damn it, I love you Jamie! <3
Seriously, can he be more romantic? Passionate? Devoted?
Besides being smart, resourceful, just and protective of his family and kin.
And well, since it's Jamie and Claire I'm talking about, trouble follows them everywhere. From ghosts of the past to the doom they're trying to prevent.
And the things he goes through? Damn it all.
[ And don't let me start about Black Jack Randall aka psycho bastard. Diana did write one redeeming quality of his (besides being a man of his word) was how much he cared about his brother Alex.
Can I just say that I KNEW Jack wasn't Frank ancestor?
Besides that, Jamie is usually the protagonist of the most hilarious moments. Oh yes, I'm talking about the sausage scene,aha.
Overall
I decided to try to savor this book and not devoured it like a maniac. To like half of the book I succeed that, I even read other books between but then it was like I couldn't hold it anymore and I keep reading. I don't get bored in how descriptive Diana is, I'm actually fascinated by it. I can't get enough of these 2.
Regarding new characters, I love wee Fergus, the small pickpocket from the streets of Paris. I like Roger and Brianna but I still don't care that much about them, I still don't feel any pull regarding their characters.
About the plot? Just WOW! There are parts, especially towards the end, that everything happens and you gather it can't get any worse and then it gets.
I won't spoil no one but for me it was impossible not to start immediately the 3rd one (and it's no surprise, that keeps getting better and better).
Now lassies, before you start any of the books just say with me, the Fraser's motto:
Je suis Prest
Oh yes I am my darling Jamie.