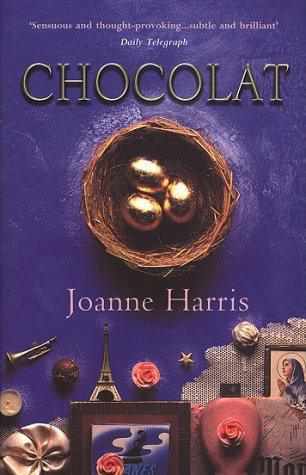 Rating: 4 stars
Format Read: paperback
** 4 magical and delicious stars **
V'là l'bon vent, v'là l'joli vent
V'lá l'bon vent, ma mie m'appelle.
I've been meaning to read this book for years now, well, since after I watched the film adaptation for the 1st time. And yes, I lost count how many times I watched it... and I can't blame all on Johnny Depp,ahaha.
Anyway, it was indeed time to read it, because usually, the book is always a whole lot better than the movie. And in many accounts that happened here, except the romantic part of it. But the story in overral? I enjoyed much more the book!
So from page one, I was sucked in to an enchanting world, deliciously magic and atmospheric.
Oh and did I mentioned all the chocolate?
*sigh* I lost count the times I was drooling on the pages...the way it's all described, it's an experience in itself. It alludes to all our scents and we can easily grasp the effect of Vianne's magic on her friends/clients.
In many ways, I thought the story had lot more depth than in the film, a lot more heart and a lot more mystic. Not so caught up in "Mayan references", the story alludes to an even more mysterious magic...and Vianne's story with her mother even more intriguing.
Still, I confess I'm still a bit upset of how Roux is different in it and his relationship with Vianne.
Another dramatic change it's of Vianne's "nemesis", who is in fact Le curé, and it did made a lot more sense to me, than the mayor of the town. It was more dramatic, more intense...I could easily see it happen in another small town, even in my own country, where the church still have such a strong hold in the people.
To sum it up,it was a delicious read that made me crave chocolate like a maniac!
"Life is what you celebrate. All of it. Even its end."