Hello everyone!!
Welcome to another Giveaway Hop!
The Giveaway is hosted by
Stuckinbooks
and it's all about amazing books!
Well, I do read a lot and it took me some time to narrow down to just a book BUT...I decided to pick a different kind of book, one with a dark and twisted story!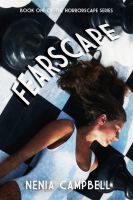 This book is so creepy and GOOD! And well, it was the 1st book I ever read from Nenia Campbell and I did become a fan of her work, she ROCKS,you guys! So I'm giving away an ebook copy of Fearscape, the 1st book in her Terrorscape series. Go check my review :)
The Giveaway is International! Just make sure there's not any problem for me to sent it via smashwords!
Interested? Enter Bellow...
a Rafflecopter giveaway
Go Hop along to the next blog...